Camping with your pet can be stressful - what do you bring? How do you prepare? Where is the best place for camping with dogs? With so many questions, we are here to provide you with 5 useful tips for camping with pets. Keep reading to learn everything you need to know about pet friendly camping at Jellystone Park™ Luray, VA!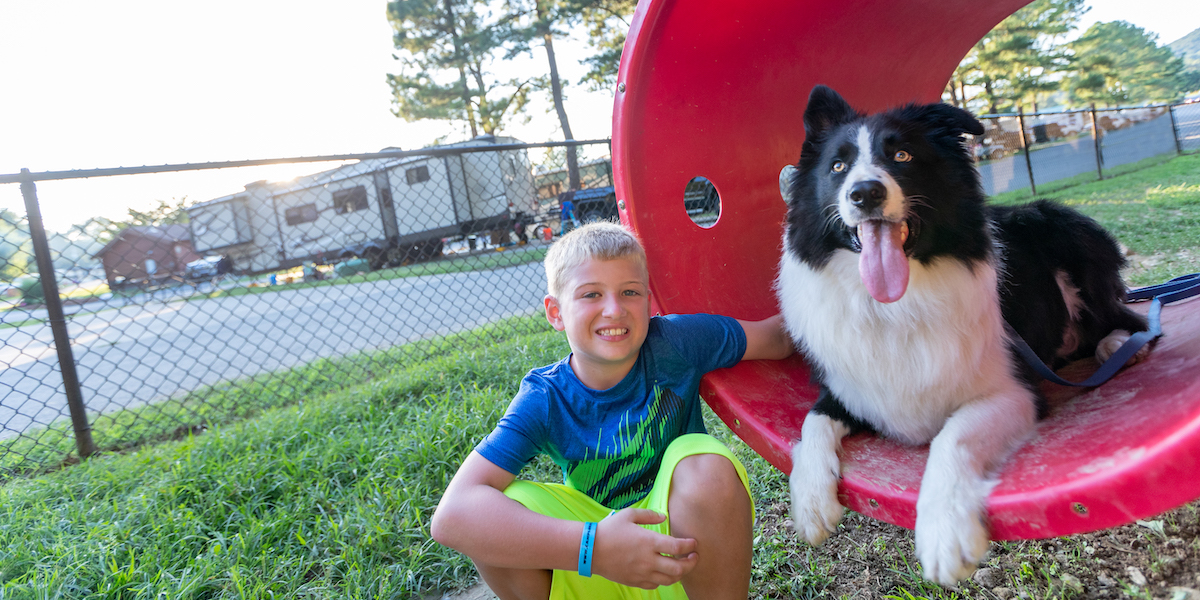 Choose The Perfect Site
Did we mention that Jellystone Park™ Luray, VA is a great option for pet friendly camping? We offer a variety of pet friendly cabins and RV sites to fit your needs. Explore our accommodations below!
Pet Friendly Cabins
If you're a glamper at heart, you don't need to give up the comforts of style in order to camp with your pet! We offer 5 different pet friendly
cabin types
for you to choose from. If you're looking for a cabin with only the necessities, book one of our Camping Cabins. Looking to experience luxury camping? Book one of our Premium Loft Cottages or Cottages. Or, if you are interested in a cabin that offers a little more than the Camping Cabins but you don't need everything in a top-notch luxury cabin, we recommend booking one of our Skyline Cabins, Comfort Cabins. All of these cabin types are pet friendly, so we are sure you will find a cabin you'll love!
Pet Friendly RV Sites
It's easy to go rv camping with your dog at Jellystone Park™! We offer 6
RV site options
that are perfect for camping with pets. When you book one of our RV sites, you can enjoy full hook-up options, a fire ring, picnic table, and plenty of space for your pet to roam around. You can choose from gravel or concrete pads as well!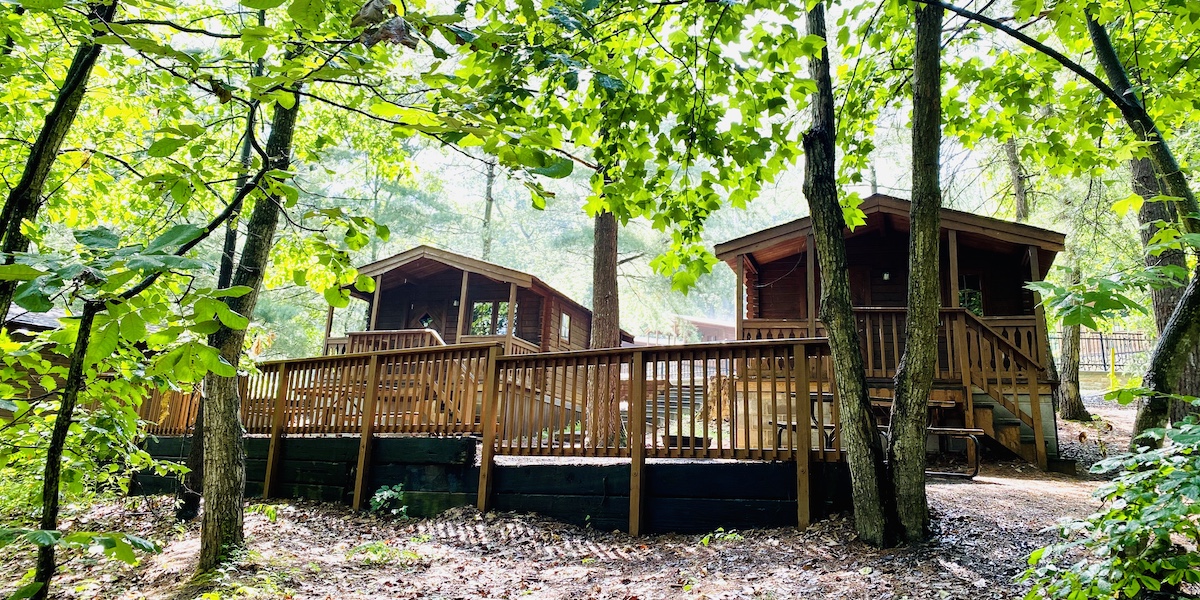 Check Your Pet's Health
When camping with your pet, it's important to make sure your pet is healthy before embarking on your adventure. Many campgrounds, like Jellystone Park™ Luray, VA, have a pet waiver you must sign. This waiver indicates that your pet is healthy and up-to-date on all of their vaccinations. This is to ensure that our campers, staff, and all furry friends are safe at our Camp-Resort!
Pet Policies & Rules
In addition to checking your pet's health, we also recommend looking into the campground's pet policies and rules. Here at Jellystone Park™ Luray, VA, we have 3 major policies you should know that will help you prepare for camping with your pet.
First, if you are booking a pet friendly cabin, you must bring a crate with you. Whenever you leave your cabin and your pet is left unattended, your pet must be put in a crate. This is to ensure that all of the cabin's belonging are protected while you're away, as well as provide your pet with comfort that they are in a home they are used to.
Like most campgrounds, our Camp-Resort requires that pets be kept on a leash at all times, unless in your cabin or RV site. We encourage you to take walks around our wooded campground with your furry friend, but just make sure they are on a leash. This way, you can keep a close eye on your pet wherever you go!
Lastly, please make sure to always clean-up after your pet. Whether you're staying close to home at your cabin or campsite, or are busy exploring our Camp-Resort, it's crucial to respect nature and our fellow campers in making sure the grounds are kept clean.
Pet Camping Checklist
It's hard enough remembering what you need to bring for you and your family, so how do you prepare for camping with your pet? We made a list of items you should add to your camping checklist for your furry friend!
Crate/Leash: We've touched on this before, but it's important to bring a crate and leash with you when camping with your pet.
Doggie Bags: You can never bring too many! Your pet and fellow campers will thank you for it.
Food: The pets have to eat, too! Don't forget to bring pet friendly food on your camping trip so they stay healthy and energized.
Favorite Bed: Make your pet feel at home during your getaway by bringing their favorite pet bed! Whether you're camping in a pet friendly cabin or RV site, your pet will have plenty of space to roam (and sleep).
Treats, Treats, & More Treats: All humans love a good dessert, so don't forget about your furry friend! Bring lots of treats and reward them for being the best camping campanion around.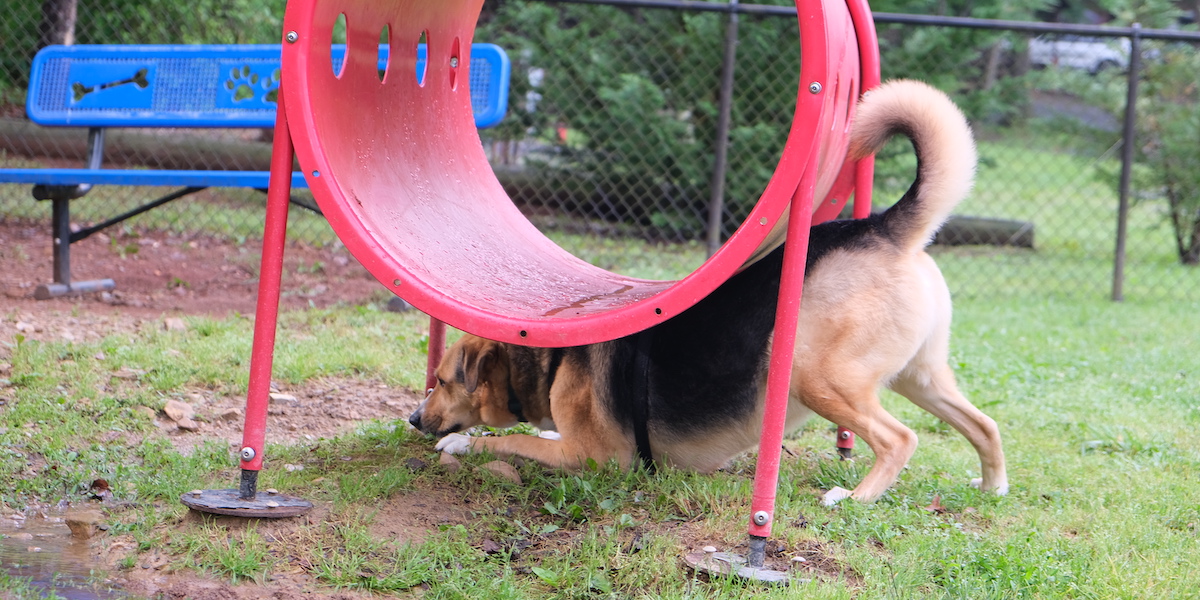 Pet-Friendly Camping Activities
Keep your pet active by taking part in a variety of pet friendly activities! At Jellystone Park™ Luray, VA, we have 4 great ways to keep your pet entertained during your camping adventure.
Bark Park
The
Bark Park
is
the
place to be for canine friends. One of the top perks about being a dog friendly campground is due to this large, fenced-in area, loaded with obstacles and toys all pups will love!
Nature Trails
Leash up your pet and go on a hike! Our nature trails are great for all ages and run throughout the park, providing gorgeous wooded scenery! If you're looking for a more advanced hike, Shenandoah National Park is just 7 miles down the road!
Fishing Pond
While you and your family are busy fishing, your pet can relax alongside you while taking in the water view. Bonus if you catch a fish!
Take A Long Walk
Although we have a variety of pet friendly activities available, you can never go wrong with a nice, long walk around our Camp-Resort. Plan your route with our Camp-Resort map
here
.
We hope this list provided you with some tips for camping with dogs or any other pet you may be bringing on your camping trip. Once you camp with your pet, you'll never want to leave them at home! If you're ready to book your pet friendly camping adventure at Jellystone Park™ Luray, VA, you can
book online here
. We can't wait to welcome you and your furry friend!