If you're familiar to the area, you've probably heard about all of the amazing wonders of the Shenandoah Valley. This valley is around 140 miles long and boasts majestic views of the Blue Ridge Mountains. With plenty of attractions, outdoor activities, and other things to do, you will soon come to realize why the Shenandoah Valley is the perfect vacation destination for both families, couples, and solo trips!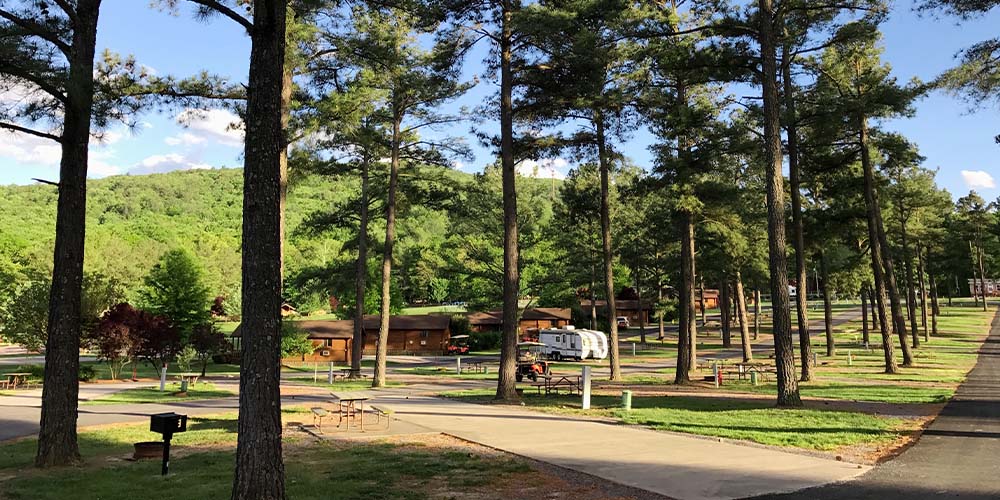 Shenandoah Valley Camping
There's nothing better than camping in the Virginia mountains - and lucky for you, there's plenty of campgrounds both in and surrounding the Shenandoah Valley for you to choose from!
Shenandoah Valley National Park
Staying at a national park is an experience of its own. Shenandoah Valley National Park has a variety of campgrounds like Mathews Arm Campground, Big Meadows Campground, and Loft Mountain Campground that will offer the perfect campsite for your family. If you're looking for Shenandoah National Park cabins, Skyland, Big Meadows Lodge, and Lewis Mountain Cabins are all located in the heart of the national park and are great lodging options. You can learn everything there is to know about camping at Shenandoah Valley National Park here.
Jellystone Park™ Luray, VA
If you're looking to stay on the outskirts of the Shenandoah Valley without having to go far for food or other activities, we recommend staying at our Camp-Resort: Jellystone Park™ Luray, VA. Not only does our Camp-Resort have panoramic views of the Blue Ridge Mountains, but it also includes a variety of on-site attractions, facilities, and accommodations. Plus, if you're looking to explore all that the Shenandoah Valley has to offer, our Camp-Resort is just a short drive away from the many activities and attractions this area has planned!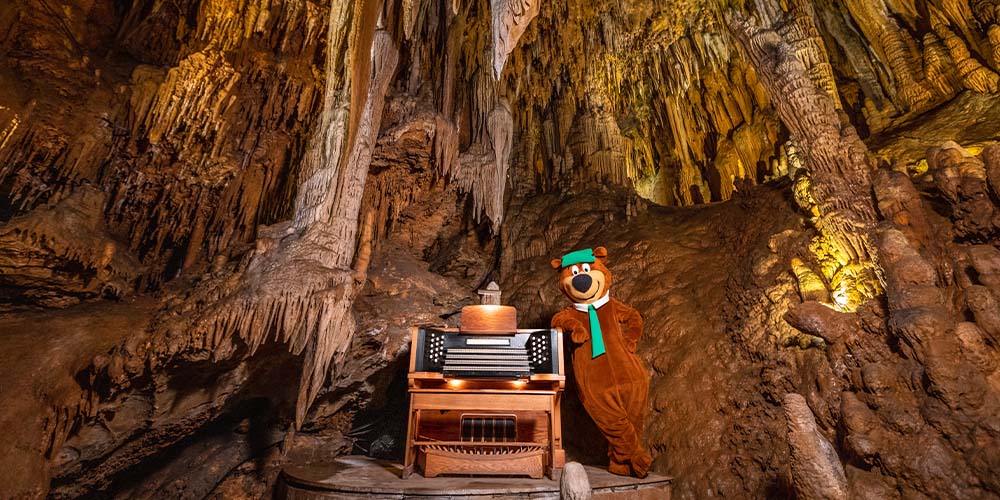 Luray Caverns
Known as the largest and most popular caverns in the eastern United States, Luray Caverns offers people of all ages an experience they'll never forget. Immerse yourself in a tour of 10-story high ceilings, towering stone formations, and more breathtaking natural treasures. This attraction is a must-see when in the Shenandoah Valley, with rates starting at $32/adult!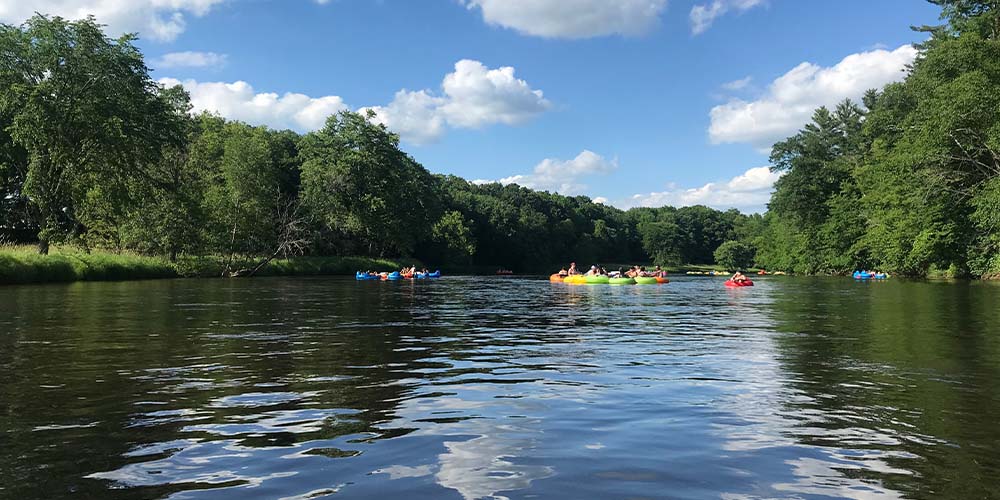 Top-Rated Attractions
There are so many things to do in the Shenandoah Valley - from outdoor activities and scenic drives, to educational opportunities, the Shenandoah Valley has something for everyone. Check out our top 3 attractions for a vacation you'll never forget!
Shenandoah National Park Skyline Drive
Located just 5 miles down the road from Jellystone Park™ Luray, Skyline Drive is a scenic drive paradise. From beautiful panoramic views of the Blue Ridge Mountains enjoyed from easy road side pullovers, to arched mountain underpasses, Skyline Drive is a great attraction to add to any road trip. Visiting in the fall? The foliage throughout Shenandoah National Park and Skyline Drive is spectacular and surely should not be missed.
Museum of the Shenandoah Valley
Looking to discover the history and cultural life of the Shenandoah Valley? Stop in at the Museum of the Shenandoah Valley! Visitors can discover acres of gardens, beautiful landscaped trails, and rotating exhibitions such as Origami in the Garden on display through November 13th, 2022. There are also creative workshops, festivals (cue wine enthusiasts), and a museum shop for all your gift giving needs!
Shenandoah River Adventures
Go on an adventure on the river! Shenandoah River Adventures offers canoe, kayak, and tubing trips along the beautiful Shenandoah River. You don't have to have experience when enjoying this outdoor adventure either - they offer trips for everyone from beginner to expert!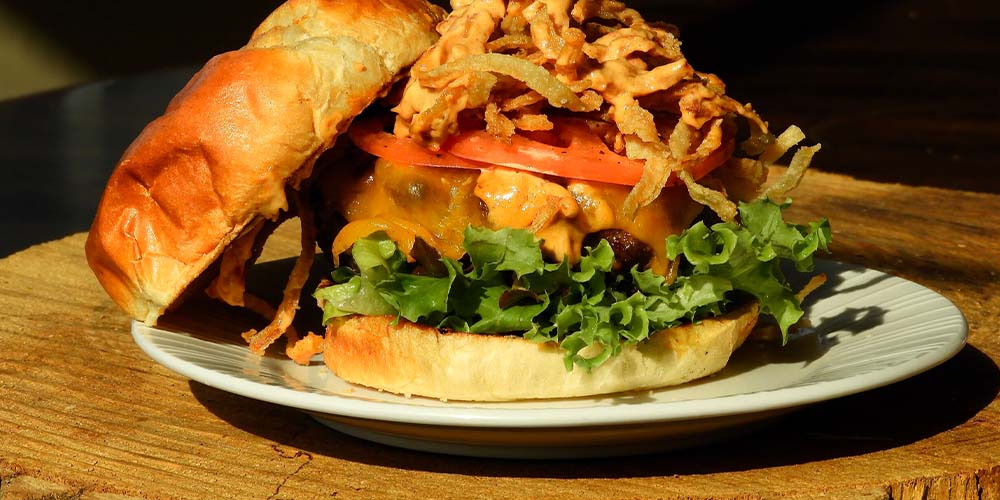 Delicious Food & Places To Eat
Indulge in the best restaurants in town when planning your Shenandoah Valley getaway! Although the options are endless, we rounded up our 3 favorite restaurants we are sure you'll love.
Triple Crown BBQ
If you're looking for delicious fall off the bone barbecue, Triple Crown BBQ is the spot to be. Their Virgina-style meats and sides make it a mouth-watering must visit location.
Gathering Grounds Patisserie & Cafe
Looking for a delicious cup of coffee and freshly baked goods to start your morning? Maybe you want to choose from an assortment of deli sandwiches made to order? Or you're looking for a spot to bring the family for dinner? Whichever it is, Gathering Grounds is a great spot located in downtown Luray, just a couple miles from Jellystone Park™!
Headmasters Pub
Come to Headmasters Pub for locally sourced ingredients, juicy grass feed burgers, and frosty pints - stay for the arcade, par 3 golf course, and scenic mountain views. Plus, if you're traveling from Jellystone Park™ it's a scenic drive over the Shenandoah National Park mountain pass!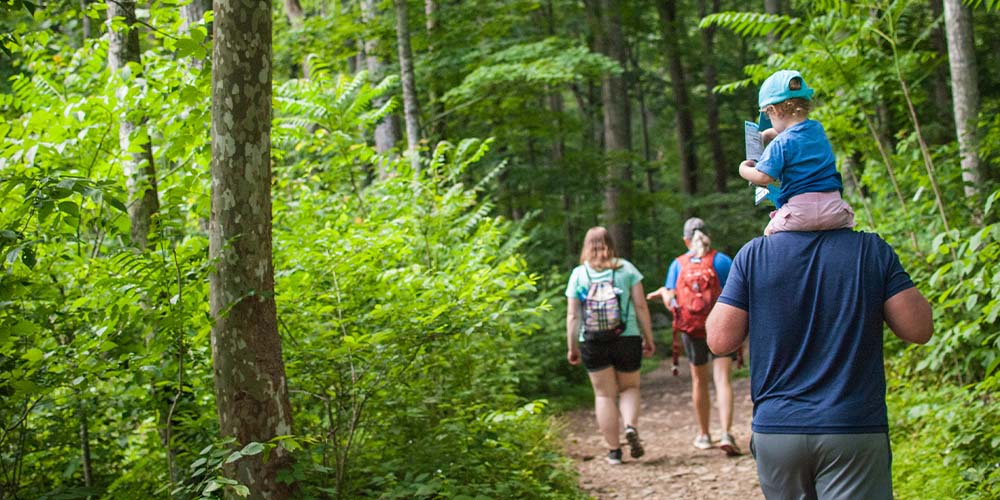 Hiking Trails
Get outside into the great outdoors at one of Shenandoah Valley's hiking trails! Whether you're a beginner hiker or a more experienced one, the Shenandoah Valley offers breathtaking views and a wide variety of trail options. Shenandoah National Park alone is home to over 500 miles of trails, giving you the option to pick the perfect hike. Check out our list below for a hiking trail that correlates with your level of expertise!
Passamaquoddy Trail
If you're just a beginner, this is an easy trail to adventure out on! This 2.5 mile out-and-back trail near Syria, Virginia usually takes an average of 1 hour and 24 minutes to complete. It's also great for bird watching and wild flower enthusiasts!
Jones Run Falls
Hike through a mountain stream, through a beautiful forest, and to a 42' waterfall on this 3.2-mile hike. Don't forget your camera!
Old Rag Mountain Loop
If you're looking for a challenge AND stunning views, Old Rag Mountain Loop is for you! This 9.4 mile loop trail is located near Etlan, Virginia and takes an average of 5 hours and 24 minutes to complete. Sorry pups, you're not allowed on this trail.
From the various attractions and hiking trails, to the delicious cuisine and breathtaking scenery, the Shenandoah Valley is the perfect vacation destination for all ages. If you still need to book accommodations, you can book your stay at our Camp-Resort here. Start planning your trip to the Shenandoah Valley today!